cyrus
Site Admin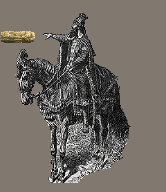 Joined: 24 Jun 2003
Posts: 4993

Posted: Fri Jun 17, 2005 12:07 pm

Post subject: White House: Iran elections are illegitimate

---

White House: Iran elections are illegitimate



By Barbara Slavin, USA TODAY
1 hour, 58 minutes ago

http://news.yahoo.com/news?tmpl=story&u=/usatoday/20050617/ts_usatoday/whitehouseiranelectionsareillegitimate

On the eve of Iran's presidential election, the Bush administration criticized the vote as illegitimate and said it would have no relations with Iran until it changes its policies.

"The Iranian people deserve a genuinely democratic system," President Bush said in a statement. "Today Iran is ruled by men who suppress liberty at home and spread terror across the world. Power is in the hands of an unelected few who have retained power through an electoral process that ignores the basic requirements of democracy."


Secretary of State Condoleezza Rice added at a news conference that Iran is "moving backwards" regarding the disqualification of candidates. Of today's contest, she said, "I can't see how one considers that a legitimate election."


Iran's political system, created after a 1979 revolution ousted the U.S.-backed shah, allows a supreme religious leader to block the actions of an elected president and parliament. Seven candidates are running for president, but more than 1,000 others were disqualified by the hard-line Shiite council that vets candidates.


Iranian newspapers are predicting that no candidate will get 50% of votes cast and that a runoff will be necessary. One question is how many Iranians won't vote.


Despite the limited choice, the candidates hold a variety of views, and the campaign has been freewheeling by Iranian standards. There have been few references to religion and many promises of reform and outreach to the West.


Front-runner Akbar Hashemi Rafsanjani, 70, president from 1989 to 1997, has called for solving Iran's problems with the United States, which broke diplomatic ties with Iran in 1980 after Iranian radicals stormed the U.S. Embassy and held 52 Americans hostage.


His chief opponent is Mustafa Moin, 54, a former minister of higher education supported by the same electoral team that helped engineer two landslide victories by outgoing President Mohammad Khatami. Although Khatami's efforts at reform were often blocked, Iran has become more socially relaxed during his tenure.


At the same time, Iran has backed militant groups regarded by the United States as terrorists, including Hezbollah in Lebanon and Palestinian Islamic Jihad. Iran has suspended work on a nuclear program that could give it the ability to make weapons while it negotiates with Britain, France and Germany.


Asked if the White House would deal with the victor, spokesman Scott McClellan said, "The United States does not have relations with the Iranian regime and will not until it changes its policies."


Geoffrey Kemp, an Iran expert at the Nixon Center, a Washington think tank, said Bush's remarks ignore that some U.S. allies in the region, such as Saudi Arabia and Egypt, are much less democratic.