cyrus
Site Admin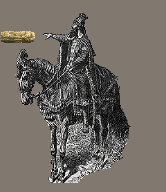 Joined: 24 Jun 2003
Posts: 4993

Posted: Wed Jul 20, 2005 11:57 pm

Post subject: Supreme Leader's Terrorist 3 gets Iran's top security post

---

Supreme Leader's Terrorist 3 gets Iran's top security post



Wed. 20 Jul 2005

http://www.iranfocus.com/modules/news/article.php?storyid=2918
Iran Focus

Tehran, Iran - Jul. 20 – The appointment of Ali Larijani as the new secretary of Iran's Supreme National Security Council, the country's top decision-making body on security-related issues, has been confirmed by the cabinet selection committee, an influential daily reported on Wednesday.

"The cabinet selection committee has approved the appointment of Dr. Ali Larijani as the next Minister of Foreign Affairs, but even though his appointment as the secretary of the Supreme National Security Council has been finalized, it is not yet certain that he will get the Foreign Ministry portfolio at the same time", the ultra-conservative daily Kayhan's Wednesday issue quoted "an informed source" as saying.

Kayhan reported that some in Iran's ruling establishment were lobbying to keep Foreign Minister Kamal Kharrazi in his job, arguing that this would "be seen as a sign of stability in our foreign policy machinery".

Foreign Ministry Spokesman Hamid-Reza Asefi told journalists on Wednesday that Kharrazi would like to leave the job after eight years. "He has said that these eight years were sufficient for this world and the next", Asefi said.

Ali Larijani is widely seen as a favourite son of Supreme Leader Ali Khamenei. He was handpicked as the unique candidate of the ultra-conservative camp, but his aloof style and dismal public performance meant that he had no hope of becoming president.

In recent days, Larijani has effectively assumed the position of President-elect Mahmoud Ahmadinejad's most senior aide as he moves to form his cabinet. Larijani has moved his office to the Majlis building close to Ahmadinejad's temporary office. He has appeared next to Ahmadinejad in most public appearances of the President-elect in recent days, including his meeting with the visiting Iraqi Prime Minister Ibrahim al-Jaafari.

These developments have fuelled speculation in Tehran that Larijani would be appointed as First Vice President or Foreign Minister, while at the same time serving as the secretary of the Supreme National Security Council.

Since leaving his post as director-general of the state-run Islamic Republic Broadcasting Corporation, Larijani sat on the SNSC as Ayatollah Khamenei's personal representative. Now he will replace Hassan Rowhani as the secretary of the powerful council, which puts him in charge of Iran's nuclear talks with the European trio.

Larijani was a senior commander of the Islamic Revolutionary Guards Corps (IRGC) His brother, Sadegh Larijani, is a cleric who is a member of the powerful Guardian Council. Another brother, Mohammad-Javad, is regarded as a top ideologue of the Khamenei faction.

As the Deputy Minister of Revolutionary Guards in the 1980s, Larijani was involved in the sponsorship of terrorist activities by Iran's surrogates in Lebanon and elsewhere in the Muslim world.

During his brief tenure as the Minister of Islamic Guidance and Culture, he adopted hard-line policies that did much to suffocate what remained of independent cultural activities in Iran. In his long years at the head of the state-run broadcasting conglomerate, Larijani introduced "Islamicised" television programmes, in a way that would comply, in his words, with "the policies and directions of the Supreme Leader".

In Ali Akbar Rafsanjani's administration in the 1990s, Larijani became a key member of the secretive committee set up by Ayatollah Khamenei to "thwart the cultural onslaught on the Islamic Republic". The other members of the gang were then-Deputy Minister of Intelligence and Security (MOIS) Saeed Emami and Revolutionary Guards Deputy Commander Baqer Zolqadr.

The committee planned and carried out the chain murder of dissidents in Iran and several assassinations abroad. It also ordered the production of several television programs that were jointly produced by IRIB and MOIS to discredit the opponents of the clerical regime. When the murders and other activities of the trio became a liability for the clerical rulers, Saeed Emami was turned into a scapegoat and was arrested as a "renegade" official. The state media reported later that he had committed suicide in prison by drinking a "hair removal" substance.

In 2003, Larijani set up two Arabic-language television stations, al-Alam and Sahar, and a 24-hour external radio network, as part of a program to introduce Islamic values to Middle Eastern audiences. The stations have been blamed by Iraqi authorities for instigating violence. France has since banned Sahar because of its "fundamentalist ideology" and anti-Semitic propaganda.

As the new chief of Iran's nuclear negotiations team and at the head of the country's highest decision-making body on security matters, Larijani is expected to bring his characteristically rigid ideological outlook to the job. It will remain to be seen if Ayatollah Khamenei's favourite Islamic apparatchik will be given a unique status by offering him the Foreign Ministry at the same time.