cyrus
Site Admin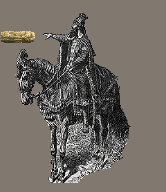 Joined: 24 Jun 2003
Posts: 4993

Posted: Mon Feb 21, 2005 8:34 pm

Post subject: Bush Demands Action From Iran and Syria

---

Bush Demands Action From Iran and Syria
By TOM RAUM, Associated Press Writer

Monday, February 21, 2005

(02-21) 11:20 PST BRUSSELS, Belgium (AP) --
Source URL: http://www.sfgate.com/cgi-bin/article.cgi?f=/n/a/2005/02/21/international/i112038S62.DTL

President Bush appealed to Europe on Monday to move beyond animosities over Iraq and join forces in encouraging democratic reforms across the Middle East. He also prodded Russia to reverse a crackdown on political dissent, demanded that Iran end its nuclear ambitions and told Syria to get out of Lebanon.
Bush did not rule out using military force in Iran, saying all options remain on the table. But, addressing widespread concerns in Europe that Iran is the next U.S. target after Iraq, Bush said: "Iran is ... different from Iraq. We're in the early stages of diplomacy."
Bush's speech on a five-day fence-mending trip to Europe was aimed at both U.S. and European audiences. "In a new century, the alliance of America and Europe is the main pillar of our security," he said.
He used the word "alliance" 12 times in his speech to underscore his aim to repair relations frayed by the war in Iraq. But not all his speech was conciliatory.
Bush had pointed criticism for Russia three days ahead of a meeting with President Vladimir Putin in Slovakia. Referring to Putin's recent steps to consolidate power, rollback democratic reforms and curb press and political freedoms, Bush said:
"We must always remind Russia that our alliance stands for a free press, a vital opposition, the sharing of power and the rule of law. The United States should place democratic reform at the heart of their dialogue with Russia."
Bush's speech was delivered in an ornate ballroom of Brussels' Concert Noble hall before an audience of business leaders, academics and diplomats. It was greeted mostly by subdued applause.
Bush and French President Jacques Chirac, one of his harshest critics on Iraq, said they were committed to patching up differences and restoring good relations despite their disagreement.

"I'm looking for a good cowboy," Bush joked when a French reporter asked him whether relations had improved to the point where the U.S. president would be inviting Chirac to the U.S. president's ranch in Texas.

Chirac said that U.S.-French relations have been "excellent for over 200 years now." Chirac added, "That doesn't necessarily mean we agree on everything at every time." The two leaders made the comments before they sat down to a private dinner.

Bush's trip also included stops in Germany and Slovakia.

Bush urged greater "tangible political, economic and security assistance to the world's newest democracy," Iraq. And he called for European allies to stand by fledgling democracy movements throughout the world, and especially in the Middle East.

On the same day that he spoke, European Union foreign ministers decided to open a Baghdad office to coordinate the training of more than 700 Iraqi judges and prosecutors. The office will be the first EU representation in Iraq since the war, and European officials said it reflects their willingness to take on a more active rebuilding role and help smooth relations with Bush.

Bush said he recognized that full democracy could take awhile to root. Even in the United States, democracy came slowly, Bush said, pointing out that women and minorities were not treated equally "and that struggle hasn't ended."

Bush had sharp words for Syria, calling on leaders in Damascus to withdraw its forces from Lebanon. As Bush spoke, thousands of opposition supporters in Beirut shouted insults at Syria and demanded the resignation of Lebanon's pro-Syrian government, marking a week since the assassination of Rafik Hariri, Lebanon's most prominent politician.

The United States has withdrawn its ambassador from Syria for consultations to protest a suspected link between the assassination and Syria.

"The Lebanese people have the right to be free, and the United States and Europe share an interest in an independent, democratic Lebanon," Bush said.

On Iran, Bush said the United States was working with European allies Britain, France and Germany on a diplomatic solution to end Iran's nuclear program. His administration, however, has been skeptical of the Europeans' approach to offer Iran economic and political incentives not to develop nuclear arms.



"The results of this approach now depend largely on Iran," Bush said. "The time has arrived for the Iranian regime to listen to the Iranian people and respect their rights and join in the movement toward liberty that is taking place all around them."



And he had pointed advice for two pivotal U.S. allies in the Middle East: Saudi Arabia and Egypt.
"The government of Saudi Arabia can demonstrate its leadership in the region by expanding the role of its people in determining their future," Bush said, urging greater move toward giving Saudi more political freedom.

"The great and proud nation of Egypt, which showed the way toward peace in the Middle East, can now show the way toward democracy in the Middle East," Bush said.

Addressing the long-running conflict between the Palestinians and Israelis, one of keen interest to Europe, Bush said a future Palestinian state must be "contiguous" because a state "on scattered territories will not work."

This appeared to signal Israeli Prime Minister Ariel Sharon that he may have to be more forthcoming on giving up Israeli settlements in the West Bank when peace negotiations on a Palestinian state reach their final stage.

Before the speech, the president made a courtesy call on King Albert II and Queen Paola, Belgium Prime Minister Guy Verhofstadt and NATO Secretary General Jaap de Hoop Scheffer.

Verhofstadt, who introduced Bush at the speech, said the U.S.-led invasion of Iraq was divisive _ but with pressing problems in Africa and other parts of the world, "It makes little sense arguing about who was right."

Bush sought to minimize past differences on Iraq.
"Some Europeans joined the fight to liberate Iraq, while others did not," Bush said. "All nations now have an interest in the success of a free and democratic Iraq, which will fight terror, which will be a beacon of freedom and which will be a source of true stability in the region."

Despite Bush's appeal to bury past differences, divisions remain over other issues, including the U.S. decision not to enter the Kyoto climate change treaty, which many European nations supported.

"All of us expressed our views on the Kyoto Protocol, and now we must work together on the way forward," Bush said. He suggested the answer lies in "the power of human ingenuity" and emerging technologies.